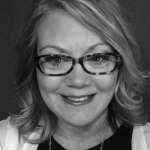 Soldier Learns to Love Writing
By Amy Touchstone, Secondary Section, Longview, TX:
A former student sent me a Facebook message several years ago. He had been in my classroom as a high school senior and had not liked the amount of writing we did.  A few years had passed and he told me he was now a soldier in Iraq and Afghanistan. The memories of writing had instilled confidence in him and he wanted me to know that the only thing he could really focus on to keep him sane was writing poems and letters. He thanked me for the massive writing he had done in my classroom. It did impact him in a positive way and he wanted me to know how grateful he was for being made a writer.