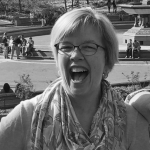 By Peg Grafwallner, Instr. Coach & Reading Specialist, Milwaukee,WI:
When children are small, they unabashedly refer to themselves with creative descriptions like writer, artist, singer, scientist, mathematician, etc. They haven't been jaded, yet, by an educational system that relies on standardized test scores and district assessments to label their intelligence.
As students get older, they rethink those creative descriptions. They are no longer writers, artists, or singers. Instead, they are quick to tell us what they can't do: "I can't write," "I can't draw," "I can't sing," or "I'm not good at math." And unfortunately, they accept their assessment scores as monikers of who they have become.
We can support our students in changing that belief system by sharing with them our own development. As an Instructional Coach/Reading Specialist at a large, urban high school, I have the privilege of collaborating with teachers in embedding literacy within their content without disrupting their classroom objectives.
As a result, I am often asked to assist students in their writing, whether it is an essay, a lab report, or a comparative artists' study. I share with students my own writing struggles in finding just the "right word," or bemoaning the dreaded "writer's block," or lamenting the deadline I am nowhere near completing.
The opportunity to share my writing experiences with students takes the mystery out of the process. Writing, for the most part, is not innate. It is hard work that starts with a purpose, moves toward a plan, and proceeds to a process. It is seldom, if ever done, but, is reclaimed, repurposed, and recycled.
As a teacher-writer, I share my experiences willingly. I want students to realize that they are writers, or singers, or artists, or mathematicians. With hard work and practice, they can create their own identification and eventually, their own inspiration.