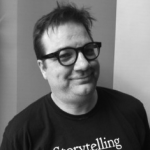 The Mantle of Story — Passing On Tradition
By Kevin Cordi, College Section, Columbus, OH:
"J" came to an afterschool storytelling meeting. We were there simply to tell stories for and with each other. He shared that he came to the meeting because his storyteller was no longer at home. His father had left the family; there one day, gone the next. J said he was no longer concerned with finding his father, but he worried about who would carry on the family stories. The job had been his father's, but now J needed to take on the mantle. He did more than that.
J led our award-winning storytelling club for years. He worked with me to register and create storytelling clubs and troupes around the country, as well as in Japan and Canada. I will never forget the day I took him to his elementary school. J's teachers listened to him telling folktales to 500 kids. They immediately grabbed me and shared that J had such a severe childhood speech impediment that they did not think he could talk to more than one person, let alone a whole crowd. Some of the teachers wiped tears from their eyes because they were so happy to hear him. J introduced himself as a storyteller to the teachers that day. He still claims this title and told me his kids are the new audience for his stories. He carries the mantle well.