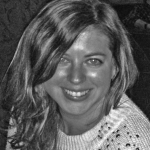 Embracing Our Impact at Every Step: From Teacher to Teacher Educator
By Nicole Mirra, English Education, College Lead Ambassador, Brooklyn, NY:
When I was a high school English teacher, I knew I was making an impact. I didn't always know the nature or extent of that impact, but I knew that I was making one. This knowledge came to me in many forms, from the lightbulb moment when a student came to a new realization, to the private after-school, soul-baring conversations, to the joy of witnessing intimidated first-year students grow into confident seniors. In the years to come, there were also the surprise Facebook messages from students I didn't think I had reached, but who turned out to remember every word.
There is something sacred about working with young people and making an impact on minds and lives at a point when they are at their most curious and open. As K–12 educators, we enjoy the gift of knowing that we will always be remembered as our students' 4th-, 7th- or 11th-grade English teacher.
But what happens to that impact when we're no longer working directly with young people, but with adults who are preparing to become English teachers themselves?
I had a difficult time with the transition from teacher to professor. Instead of seeing my students each day, I only saw them once per week. Instead of a year or more together, I often had only a semester with them. Instead of meeting them in their most formative years, I was now engaging with folks who, though still growing, had established more settled identities. I wondered if I could forge the same loving relationships with them that I had with my high school students.
During every discussion of instructional strategies or curriculum development, as my students shared stories from their first overwhelming days in the classroom, I felt pangs of longing. I should be in that classroom. I should be with those students. That's where the real difference is made.
I had lost my sense of impact.
While I believe that teacher educators need to give ourselves the space to mourn the loss of daily contact with young people as their teacher, we also need to grow into appreciating the new forms of impact we can have. I've been seeking this growth in several ways.
First, I challenged the normative idea of the aloof professor-student relationship by bringing my entire self to my interactions with my university students and forging bonds that, though inevitably different, were just as meaningful as those I made with my high schoolers. Keeping that office door open goes a long way.
Second, I embraced a new role for myself in middle and high school classrooms. Being a teacher educator does not (and should NEVER) mean that we no longer spend time with K–12 students. In addition to supervising teacher candidates, I established a research agenda that always included the voices of youth and their teachers. I gave college-essay writing workshops. I engaged students in youth participatory action research. Again, the impact is different, but no less important. We do a disservice to the future teachers in our university classrooms if we do not stay intimately connected to what today's classrooms are like.
Third, I became mindful of the interconnections across the educational landscape. I thought about how I could instill habits of love, dedication, reflection, and relevance in each of my future teachers. If they go forth and touch the lives of dozens of students each year, then I can be part of a continued striving toward educational justice and equity on a larger scale. I can enjoy a new form of impact.
I would not have been able to grow on my journey without a professional home I could turn to for inspiration and guidance. The Conference on English Education (CEE), which is the part of NCTE geared to teacher educators, became that home for me. Whether through reading articles in the journal, English Education, or learning from fellow teacher educators at CEE sessions (which take place during the NCTE Annual Convention and the biennial CEE Summer Conference), I have learned to embrace my impact.
I encourage you to embrace your impact, too, and share your story with the NCTE Village!