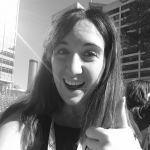 By Kristen Luettchau, Secondary Lead Ambassador, Bridgewater, NJ:
The desires to learn and to teach have been passions of mine as long as I can remember. My mom tells me stories of times when I would play "school" even before I had attended school myself. My highchair had a removable chalk top that I would write on as I practiced my letters and numbers. I even had an easel that I would use as I took on the role of the teacher, encouraging my stuffed animals to learn their letters and numbers too. I used to pretend I was a student in my own class, completing the assignments I had just made as the teacher.
Now, as I enter into my seventh year of teaching, I continue to put my passions for learning and teaching at the forefront. Sometimes the pressures and ever-increasing obligations related to this job can feel insurmountable. The way I stay motivated and passionate is by keeping the students as the focus. Interacting with my high school ELA students is what revitalizes me year after year.
This past June I received several handwritten letters and notes from students thanking me for all I had done for them throughout the year. One student thanked me for helping him hone his skills as a writer and as a poet. Another student thanked me for making Shakespeare fun. (English teacher win right there!) A few other students thanked me for being there for them through the college application process and for listening to them as they struggled to make decisions about their future studies.
These handwritten thank-you notes helped me remember why I teach and the impact I can have on my students. Sometimes it can be easy to get lost in the tasks associated with the job, from data collection to observations to meetings. These notes mean more to me than any gift ever could, and I want to thank these students for helping me continue to grow as an educator. I teach for the students, and I hope they know the passion I bring to this job. I only want the best for them as I help them become better readers and writers.