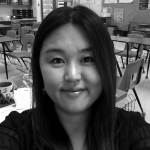 Students' Moment of Literary Enlightenment
By Grace Lee, 6-8th Grade Language Arts Teacher, Naperville, IL:
As an English language arts teacher, I have the great joy of experiencing daily interactions with my most curious, insightful, and knowledge-driven middle school students. One of endless enlightened moments for me was reading S. E. Hinton's The Outsiders. Not only did my students delve deeply into the raw emotions that Greasers and Socs were conflicted with, they were also able to experience a troubled youth world that would not have been available for them otherwise. My students and I not only activated our metacognition for each and every chapter, but also felt joy and sorrow through the lenses of The Outsiders.
One particular chapter that blew my mind away was when my seventh graders articulated their understanding of the Chapter Six church scene as a moment of redemption for Johnny and Ponyboy. Wow! Talk about depth of maturity in connecting the symbolism of a church to a humanistic approach to redemption!
Surely, reading and studying a novel should not be limited to text comprehension through text analysis, but when you see the students' souls being awakened, that's truly an authentic literary experience.