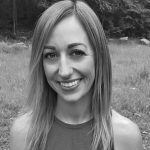 What Being an Educator Taught Me
By Rachel McMinn, High School English, Meriden, CT:
I am a second career educator. I started off in banking after college, but quickly realized that it was not the career I wanted to pursue for a lifetime. It was a tough decision because I felt fairly successful in my first career and lucky to have a good position right out of college, but in my heart, I longed for a career with more purpose, creativity, and a genuine ability to change people's lives.
When I initially shared the reasons for going back to college to get a second degree so I could go into teaching, I think people thought I was a little too idealistic about the world of public education. I was aware of some of the harsher realities (curriculum, standardized testing), but I also felt that I genuinely had the opportunity to do some good and make a difference.
Student teaching was a very grounding and enlightening experience for me. I was assigned to an urban middle school that was very different from any of my personal schooling experience. I was born and raised in Cambridgeshire, United Kingdom, and moved to the United States my junior year of high school. I attended high school on the shoreline of Connecticut. My experience was unique in some ways, but I had never encountered some of the issues that urban school districts face. I was terrified that I wouldn't be able to make a connection with the kids or be able to get through to them because I had not encountered some of the difficulties that they have and never struggled in school. However, I learned that being honest and genuine was the best approach. I've subsequently introduced myself to every single class I have ever taught, explaining why I became a teacher. It is important to me that they know it was a choice.
I have done my best to be myself in the classroom. That is what works best because I am not trying to be someone I am not or trying to win favor with my students. Being genuine, realistic, and open with my students has won their trust and their trust allows me to be a better educator.
Teaching has taught me that we all have something to share, offer, and teach. A lot of my job goes beyond the realm of teacher. Anyone who believes teachers simply deliver instructional material has not set foot in a classroom. I have learned that I can't inspire change or champion strength, kindness, and perseverance if I am not doing the same. I share with my students when I am feeling overwhelmed with work for my graduate school classes. I want them to know that those feelings are normal and that we all doubt our capabilities and feel rushed or stressed, but we can get through it. I talk to them about gratitude and being positive and doing the right thing. I published a young adult novel, and shared that experience alongside my students. They know that my schedule is crazy (I teach full-time during the day and in night school two evenings a week, and run half marathons). They know I spend my breaks pumping milk for my still-nursing daughter and I eat lunch at my desk, but they also know that I love my job and I care about their education and their success. I want to lead by example, and I've realized that I don't need to be anyone but myself to do that.
I used to have moments where I felt very small, as if I could never do anything that would really make a difference. It would really bother me to the point of wondering if I was failing my students. I was writing lesson plans and reading educational journals and the latest research, but was I truly doing the best I could by simply teaching? I used to think "I am not a millionaire. I am not a celebrity. I am not someone influential. How can I truly have an impact?"
It took listening to my students for me to realize that I do make a difference and I do influence them. I have realized that my words and my actions and my teaching do make a difference. I see it firsthand in my students. I created a novel writing project, where my students wrote novels in conjunction with National Novel Writing Month, and I led them through the editing process and self-publishing their books. The looks on their faces when those books arrived is something that I will never forget. We had a book-publishing reveal event that our faculty, Board of Education, and superintendent attended. The students were beaming with pride. I teach in a high-school-credit diploma program and many students have dropped out at some point for varying reasons. They have had doors closed on them, sometimes because of their choices and sometimes at the hands of others. They have not experienced success, and often equate education with difficulty. But in that moment, it was all about their hard work and accomplishment. It was one of those moments you read about. Those are the moments when you realize you are doing it right.
Once you start looking for your successes, you see them more and more. This is important for teachers, because it drives us to keep working as hard as we can for our students. I see it in the community we create here. I see it when students walk back through my classroom door after graduating with a story of what they are doing now: a new job, a training program, community college.
We have a student who graduated and went on to a tech school and works in HVAC now. This was a student who never thought he would finish high school, let alone pursue further education. He moved to Florida, got a great apartment, and is raising his two young children with his girlfriend. He calls every few months just to say hello and thank you. Last time I talked to him, he said "Hey Miss, I just wanted to say hi and thank you and I will never forget you guys. Life is great down here. Tell your students to graduate!" Those ten seconds made me feel like a millionaire, a celebrity, someone influential. The experiences in my classroom truly transcend these four walls and I was a part of that.