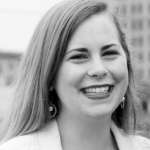 The Importance of Stories
By Elizabeth Shults, High School English, Birmingham, AL:
Stories have always been important to me.  I was raised on Bible stories, told over and over again with flannel-backed characters paraded around on flannel board. My dad used to tell my sister and me stories about a fearsome dragon. (A dragon I later learned was modeled closely on his boss at the time.) When I became a student of literature, I realized how important stories were to me. When I became a teacher of literature, it became evident that stories were my connection to my students.
In my first few years of teaching, I thought the most important thing I needed to know was my content. I thought that if I was an expert on that poem or novel or play and could close read it backwards and forwards, then I would be a successful teacher. I was wrong. The authors I taught wrote wonderful, moving stories, but they were not the most important stories in the room. The most important stories told were those belonging to my students.
Personal connection has been invaluable in my classroom. Learning how to laugh with my students and connect with them on a personal level builds bridges to the content. Without personal connection, the content is isolated and not relevant to my students' lives. Likewise, the students are much more likely to take what I have to say about my content seriously if they know I care about them as people. If I can point to a student and tell them how they, specifically, remind me of a character, I've now brought them into the story, and the story into their life.
Knowing a student's story is a privilege. It means they've trusted you with a part of themselves that is in the making, and given you the opportunity to shape it. The Eleventh Doctor of the Whovian universe reminds us that, "We're all stories, in the end," and that our stories are important. The world is a messy, complicated place but that's exactly what makes a wonderful story. Tidy stories are rarely the ones with weight, because seldom few live tidy lives.
I hear my students' stories, and I see myself in their shoes — then and now — both having written and continuing to write. I show them stories that are both mirrors and windows, because a good space needs both. I have a unique opportunity to enter a student's story and give them the tools with which to continue writing on their own. I try to stay aware of that opportunity and treat it, my students, and their stories with the respect each deserves.